VoxVR Devblog #4 – Oculus Support, New UI, Sketchfab Integration
Hello!
In the first few lines of the last devblog, I explained that we won't be able to publish a new devblog every month, but we will publish one every three months.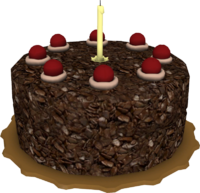 Well… I'm sorry.
We are still actively developing VoxVR besides all the other things we are doing (like studying and creating assets).
Oculus Rift Support
Before I go into the changes we've made since the last update, I want to announce that VoxVR now officially supports the Oculus Rift headset + Touch controllers.
A screenshot of a player with an Oculus Rift & Touch in VoxVR, made with the spectator mode.
As you can see in the screenshot above, we are not just using SteamVR to support Oculus, we use the Oculus SDK parallel to the SteamVR SDK to support Oculus specific features, like the Oculus Avatar. But since the Oculus Touch controllers are a completely different input device (e.g. it has a joystick instead of a touchpad) we had to re-implement how the input and UI systems work.
We are now using Hover UI Kit, an generic UI system for 3D input devices. A huge thanks to Zach, who helped us implementing his kit in VoxVR.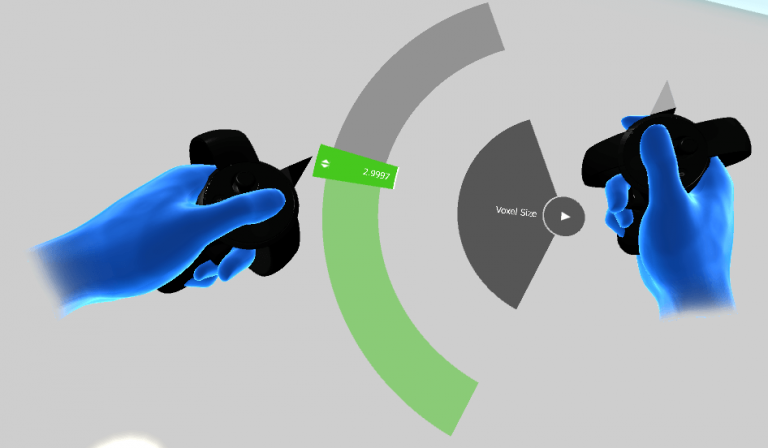 A slider for adjusting the voxel-size in VoxVR made with HoverUI kit.
Sketchfab Integration
It's now possible to upload your creations to Sketchfab without closing VoxVR – you will have to take off your headset though -. We discussed this a lot with people from Sketchfab, because it would be way more convenient to upload directly from within VR, but in end the we agreed that it's more user friendly and secure to do the login and upload process on your computer, while not being in VR. Checkout this model made by our new team member Jack uploaded with VoxVR: Small House by Jack
The VoxVR Subreddit
Because already quite few models were made with VoxVR, we decided we need a platform to collect all those models. So we created a subreddit, check it out here. Feel free to comment and post your work. We also going to post all news regarding VoxVR over there, so if you do not want subscribe to our newsletter, then it's a good idea to subscribe to the subreddit.
Featured Artwork
Let's feature one model made with VoxVR in the end of every VoxVR devblog. Maybe your's is next? Just post it to the subreddit. So this weeks featured artwork is by VRtualArtist:
See Link Jump (VoxVR) by VRtualArtist on Sketchfab
I didn't made a video for this devblog, maybe I'm going to create one later…
Anyways, thanks for reading – see you next time!
Michi
---